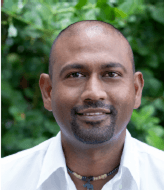 Dhasi Naidoo
Ontec Systems (Pty) Ltd
,
Chief Strategy Officer
South Africa
Dhasi Naidoo is currently the Chief Strategy Officer for Ontec Systems (Pty) Ltd. In this capacity, he spearheads the strategic direction, marketing, sales and solutions development for Ontec. After beginning his journey at Schlumberger in 2001, Dhasi was instrumental in developing the accelerated metering test laboratory and quality controls for the company's prepaid manufacturing facility. During his career, Dhasi also managed national operations, vending services and national sales for Itron South Africa (previously Actaris Measurement & Systems/Schlumberger).
Dhasi has over two decades of collective experience in the energy industry. He founded and managed Prepaid Electricity Management Solution (PEMS) in 2009, which he sold to Itron Measurement and Systems in 2011. He continued managing this business unit under the Itron umbrella.
Before Itron, Dhasi was responsible for the accelerated life testing facility at Eskom, which managed the approval of electricity meters for Eskom's national electrification programme.
Dhasi is an electrical engineer by trade and is currently busy with his Executive Master's in Business Administration at the University of Cape Town's Graduate School of Business.